Tawny Peaks » A Clean Breast
Unable to play the trailer? Try one of these:
MP4 480X360
Tonisha Mills joins Tawny in the model's dressing room for a nice, if not relaxing, shower. Girls will be girls so they help each other get all squeaky clean. There's nothing like seeing a busty girl shower. It's a heavenly site for breast lovers. The more, the merrier. Tawny and Tonisha appeared together in several videos.
August 11th, 2011
07:06 mins
Rating
Download Options
Full Scene Download
Five-minute Clips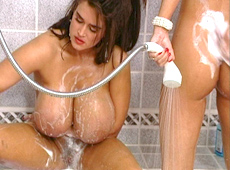 More Tawny Peaks Videos